Fitness for Kids - Kids City - "Up & Go"
Funfitness in conjunction with At Croydon Tennis Centre we offer a variety of
#schoolholidayprograms
and
#kidsholidayactivities
including our very successful
#HolidaySports&AcademicCamp,
#
PREP
Gross Motor Skills tennis camp, #ANZTennisHotShots JuniorDevelopment #tennis camps, #multisport&fitnesscamps and #HolidayIntensiveSwimming programs catering for kids from the age of 3 and up. All #VacationCare and programs single day registration along with full week registration.
A sausage sizzle is provided daily for ALL attendants, and a supervised refreshing swim daily for competent swimmers.
SUMMER HOLIDAY CAMPS 2021
Camp 1:- Monday 13th - Friday 17th December 2021
Camp 2:-
Monday 20th - Thursday 23rd December 2021
SUMMER HOLIDAY CAMPS 2022
Camp 1 :- Monday 10th - Friday 14th January 2022
Camp 2 :- Monday 17th - Friday 21st January 2022
Camp 3 :- Monday 24th - Friday 28th January 2022*
* Public holiday on Wednesday the 26th.

Vacation Before and After Care Service
Croydon Tennis Centre has an established "School Holiday Vacation Before & After Care service" for our school holiday program and kids holiday activity participants. Croydon Tennis Centre School Holiday "Vacation Before & After Care Service" is available daily from 8am - 9am & 3pm - 6pm. Please note this needs to be booked in advance.
Click here for further information.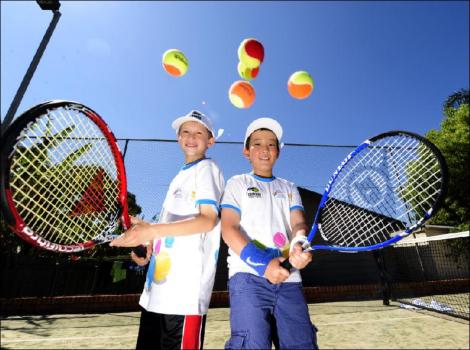 Holiday Sports & Academic Camp
Gross Motor Skills PREP Tennis Camps - 3 to 5 year olds
Holiday Intensive Swimming Program
Laser Tag -> Zorbing -> Techno Centre
Holiday Program Before & After Care
Our specialised kids boot camp programs "Kids City" are targeted specifically at children to keep them focused and entertained while teaching them the fundamentals of maintaining a healthy attitude and lifestyle. We also work on self esteem leadership skills and provide mentoring.
The benefits include;
Healthy growing bones
Less weight gain
Hand and eye coordination
Increase fitness level
Learn how to eat healthy
Learn how to play all sports Soccer, Hockey, Volleyball, etc
Childhood obesity is a term that until recently was seldom used in Australia. But with changes to our lifestyles, diet and society, Australian Government statistics show an alarming increase in the number of Australian children who are now classified as obese.
An estimated 1.5 million or 20-25% of children under the age of 18 are considered overweight or obese
Children are getting less aerobic exercise; the level of aerobic fitness is decreasing by about .4% a year
If weight gain continues at the rate seen in recent years, by the year 2020, 80% of all Australian adults and one third of all children will be overweight or obese
50% of obese adolescents continue to be obese as adults
Childhood obesity is linked to many health risks such as;
High blood pressure
High blood cholesterol
Low self esteem
Psychological stresses e.g., depression
Increased risk of heart disease
Increased risk of gall bladder disease
Arthritis
Some cancers e.g., breast cancer, endometrial cancer, colon cancer
Shorter lifespan
Asthma
Muscular-skeletal problems
Bring your children in today for an assessment and a trial to show them that fitness can be fun and effective at the same time.